I love Pinterest. I really do.  I've learned so many cool things there.  I pin them.  And then I get a wild hair up my booty.  And then I make something.
Most of the time?
It's amazing.
Like the Christmas ornaments I made out of floor wax and glitter?
I gave some as gifts.  I made sure that all the family members got one.  I even kept a few for myself.
They loved them!  (And it was more than just my mom!  She loves everything I make!)
My decorating took off around the House of Chaos and when the Christmas decor came down, it was quite boring, blah, and well, depressing around here.
So I took matters into my own hands and found some Valentine's Day stuff to make.  The hubs is thrilled.  He pink puffy hearts the day.  Me? Eh.  Not so much.
But I like making things and I love the house when it's warm and cozy and decorated so this seems to please both of us.
Besides.  Thinking about Valentine's Day makes me think about the cruise that we won because we'll be celebrating that day in the Bahamas!  Woot!
I digress.
Julie at From Inmates to Playdates asked if there was a tutorial for the wreath that I showcased yesterday.  And?  There is.  Obviously, I learned how to make it somewhere.  I'm not that creative.  (I just follow instructions well.)
But, because I wanted to play with my new camera and feel like I run a craft blog flesh out a few of the instructions AND have a What I Learned This Week Post, I came up with a tutorial of my own.
The Felt Heart Wreath
Items Needed:
Styrofoam heart wreath shape (I got mine at Joann's — I didn't see one at AC Moore and I didn't check Michael's and used my 50% off coupon — so it came to $2.50)
3/4 yard of red felt from the bolt  (The 72″ bolts) — it runs about $4.99 a yard.  I managed to catch mine on sale at $2.99/yard
Stick pins (at least 150 or so… I bought a pack of 250 for about $3)
scissors (you're going to use them alot)
time — I worked on this over the course of two days
First.  Make yourself a 3″ circle pattern.  I used an old piece of cardboard and a cup in the cupboard.  The hubs measured all of them until he found one that was 3″.  I don't think it's imperative that it's 3″ but that's what the instructions I found said.  And I'm a rule follower.
Then…make a whole bunch of them on your felt.  I cut two pieces at a time.  I tried to make more, but the scissors from the hair clipper kit wouldn't allow it and when I got the new scissors, it was just too hard to cut and keep them looking like circles.
I didn't cut them all out at one time, but I cut a bunch and then pinned and then cut and then pinned, but if you have a movie in your Netflix queue that you've been wanting to watch?  Turn it on, settle in, and cut to your heart's content.
I can't tell you how many I cut.  I know that I started with 250 pins and was going to count the pins that I had left, but after cutting and pinning and cutting and pinning, I really didn't think it mattered.  I would guestimate that you need about 150 circles.
This was actually the home stretch for me….you know… when I decided, "hey!  i should document this so I can show others!"
After you have your circles, you'll want to fold them in half, and then in half again…like so
Then take your stick pin and put it through the point of your newly formed triangle….
And then stick it in the wreath…haphazzardly.  I tried to have some sort of a pattern but the hubs said it looked forced.  Ok, so he didn't say it looked forced, but I did, and he agreed.  That and I stared at the other lady's picture for what seemed like hours seeing if she had a pattern.
She didn't.
I can tell you that it seemed to work better for me starting at the top of the wreath form and working down.  But that was just me.  I'm sure that you'll find your own groove.  I can also tell you that if I'm going to continue making tutorials that show my hands, I'm going to need to take better care of my nails.  They are HORRIBLE!
When you're all done and you've rearranged them eleventy bajillion times, you'll end up with something that resembles this…
Minus the empty soup bowl and Christmas cup left on the table from dinner.
And just in case you are obsessive… like me… here is what a close up of the wreath looks like.
A few notes about this… you don't have to do the back.  In fact, when I started the first time, I only did two rows down each side before I decided that it looked forced and tore half of it out.  And there is no wrong way to do it.  And Amy over at the Idea Room has some GREAT ideas… I'm thankful that she provided the tutorial that she did!
I forgot how hard it was to cut out all those flippin' circles love the way that it turned out so much that I took my left over felt and am making topiaries out of two styrofoam balls and glasses that I picked up at the Dollar Store!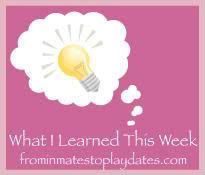 And this?  Is what I learned this week. What did you learn this week?  Link up at From Inmates to Playdates
And, uh… oh yeah…I've figured out how to (I think!) add a "pin it" button to my posts!
Nevermind… a project for another day!
Until next time…