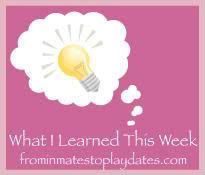 Ah.  One of my favorite days.  The day I get to talk about what I learned.  Here we go:
Simple Post Template is a WordPress plugin that just saved me a bunch of time — now I have a template for WILTW and I just click a button and viola!  (Which, I just pronounced VI – O – LA in my head.)
Just because it's a DIY project doesn't mean that it's cheaper.  I went to the craft store to purchase the items to make this cute little halloween topiary I saw on Pinterest and even though the pumpkins were 50% off and I had a 20% off coupon of my entire purchase, it would cost almost $50.  And I'm sure it wouldn't be as cute as the one in the picture.  So, I didn't purchase any of the items, instead settling for some more yarn.
If you tell people you have an Etsy store, traffic increases.
Additionally, if you actually list the items you have for sale, you will have a better chance of selling them.
The night before a new job, you pretty get transported back to when you were in school and it was the night before school started.
And of course, a pimple shows up.
If you share pornographic photos on your Facebook wall I will unfriend you and have my children unfriend you in a New York minute.
Breaking Amish might not be real.  That just breaks my heart and I've pretty much stopped watching.
An empty office stinks… but once you get pictures and knick knacks and the like up, it feels much more at home.
I need to lose 50 lbs. (Ok, so I didn't learn that this week, I already knew it.  Perhaps if I keep saying it, I'll do something about it?)
Staring at this screen won't help me any more that I've learned this week, however, as soon as I hit publish, I'll think of about 10 more things.  Need.to.start.writing.notes.
That's it for me this week.  Pretty pathetic, I know.
But it's something!
What did you learn this week? Link up at From Inmates to Playdates.
Until next time…