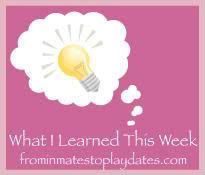 This past week has been… well, I don't know how to describe it.  It's been amazing at times, depressing at times, trying at times, and frustrating at times, but throughout the whole week, I've learned a few things… and in some cases, re-learned a few things…
In no particular order…
 If your sister-in-law tells your nephew that he can have the old tractor tire found in the woods IF he can get it TO the car and IN the car… he will stop at nothing to make that happen….
The hubs truly wants to fit in with the girls… but he's still learning how to accomplish the "duck face"
If you tell your daughter that you are too old to cart her and a friend to the mall at midnight on Thanksgiving your husband will pipe in and say, "I'll take her."
When you tell your daughter that her step-dad will take her, she will respond with, "Yes, but will he spend money?"
Hassle-free Christmas shopping involves letting your 13 year old daughter pick out what she wants when it comes to clothes, but assuring her that there will be a few surprises under the tree.
When your mother asks you if you want to go shopping at midnight on Thanksgiving you suddenly are no longer too old.
When it takes you five days to recover from being out until 2am, you realize that yes, you are, in fact, too old to go shopping that late….
However… the time spent with your mom was more than worth it.
My mother doesn't appreciate Madea like the rest of the family does.
The rest of the family doesn't appreciate the movie, "White Christmas" the way my mother and I do.
Because of the last two statements, I'm now labeling myself a chameleon.  I can just adapt to whoever I am with.
If you leave a ceramic dish on the burner and turn the wrong burner on it will explode due to the heat.
If that dish has greasy paper towels in it because that's where you're putting french fries when they come out of the deep fryer, the paper towels will catch on fire when it comes in contact with the burner.
When you scream for your husband because the whole top of your stove is on fire, and blowing on it like it's a candle on a birthday cake isn't putting it out, he yells back "Grab the fire extinguisher!"
To which you will learn that you have a fire extinguisher.
Except when he comes to get said extinguisher, and can't find it, you will be thankful that you bought a kitchen faucet that has a long sprayer and nozzle.
You then learn that if you have a fire extinguisher, no one knows where it is.
You will get drenched after the little fire is put out and there is water everywhere.
After hearing a digital voice say "Fire" over and over again you will realize that your husband bought a new smoke detector.
While you are ready to melt down because you can't seem to distinguish between FRONT and REAR when turing the stove on, your husband will attempt to clean up the shattered FAVORITE DISH THAT YOUR MOTHER BOUGHT YOU, not realizing that it is BLAZING hot still and burn the tips of two of his fingers.
When you finally sit down to what has been salvaged of your dinner and the eldest girl knocks lemonade all over the hamburgers and hotdogs, your eldest boy will scoop them out of the lemonade filled plate, and they can be rinsed and fried in the pan again eliminating any trace of lemonade.
If you can't hold your fork properly to scoop up the remains of the green beans and corn because you burnt your fingers trying to clean up the mess your wife made in the kitchen, your step-daughter will spoon feed you.
When you arrive at your PTA board meeting you will realize that you smell like a burning kitchen and then feel the need to apologize for the smell.  (And at that point attempt to laugh at your mistake when you're not quite ready to laugh about it yet.)
Calling your mom, whether she answers the phone or not, will always make you feel better.
Until next time…