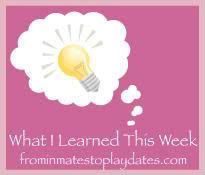 As previously mentioned, I became a grandma this past week to not only Jeffery, but to Eggbert as well.
Yes.  Both of the older things are participating in the Egg baby project in which they have to carry around an egg for a week.
Sweet Jesus.  I may not make it through the week.
But here is what I learned this week.
I look good for the grandmother of two.
See?
I also learned that a simple picture can change you whole attitude toward your hormone infested thirteen year old.
Like, seriously thinking one of you won't make it until her 18th birthday when a fellow church member hands you this photo…
Seriously?  This might be the only current photo I have of her without a duck face… or puffed out cheeks.
And trust me.  That's another thing I've learned…
Thirteen year olds with any sort of photo device chronicle their  lives better than any new mother does after learning she's got a bun in the oven.
If you look at her phone or iPod touch (or my iPhone — on the days when both of her devices are dead and she can't find the charges) I can tell everywhere she's been…
like a mini flip-book of her life.
::sigh::
Something else I learned this week… was about being a VIP…
OH YES I WAS!
We had the VIP couches!  And I have at least 13 friends… or at least 13 who were willing to brave a 21 and over comedy club with me and the hubs Saturday night…  (And none of these friends knew that VIP seats were involved… and still came!!!)
I also learned that birthdays don't suck if you CHOOSE not to let them suck… (for the record, I'm enjoying the last bit of 35 before Wednesday morning when I wake up 36!)
I learned that I am not Jesus and I make mistakes…. ok… I didn't JUST learn that this week, but I was reminded of it….
And I learned that everyone in the WORLD seems to be picking out a word for 2013… which makes me feel like I NEED a word for 2013. But do I really?
I don't know.
But I've been thinking about it all week.
And all the good words were taken and then I felt like a copy cat….
Until tonight when I was on the way to the Cheer Booster Club Meeting (::sigh::) and I came up with the PERFECT word for me.
It emulated everything I've been feeling the last few months and I felt AWESOME not only about having a word but having THAT word.
Of course, right now?  I couldn't tell you what that word was if you were to offer me a hundred bucks.
So I also have learned that I have a freakin' smart phone that takes notes and a woman who lives within the walls of my smart phone who calls me Tonto Waterwalk (because my kids told her to) who would GLADLY dictate a note for me.
You know….
So that I can remember the very important things in life like the WORD THAT IS SUPPOSED TO DEFINE ME FOR THE NEXT THREE HUNDRED AND FORTY SEVEN DAYS!
Sadly, I didn't just learn that this week either… the whole I have a smart phone and it really could make my life easier bit… but again, it was just a not so gentle smack in the face reminder …
So that's some of what I learned this week…. how about you?
What did you learn this week?  Link up at From Inmates to Playdates.
Until next time…