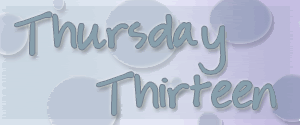 I've never done a Thursday 13 before, but I WANT to write… and I just needed a non-corny prompt or two…
(Have you seen some of these writing prompts?  I wish to be entertaining… not boring… Not sure I'm doing it right but it has to be better than some of these prompts that reminded me of assignments I had in high school english class!)
Moving right along…
I try never to go back to high school.
Ever.
But this week's Thirteen is some of my favorite television shows… (in no particular order)
From the household that has no cable — which, I couldn't get to thirteen shows that I watch now… so I included shows that I loved in the past and could watch any time they were on!
TV Shows I Watch Every Week
1.  Grey's Anatomy – So I've been watching this for awhile and like most shows, after the hubs came along, I stopped watching… and then?  All of my favorite shows showed up on Netflix and so I watch… I hated the end of last season, but I like where this season is going so far.  I just want Karev to be a good person.  And Kepner and Jackson need to be together.  'Nuf said.
2.  Private Practice – Same as with Grey's and I HATE that this show is ending.  HATE it.  I have loved seeing Charlotte transition with the triplets and I'm still convinced Pete faked his own death and is still alive.
3.  Hart of Dixie – Amy over at Permission to Peruse wrote a similar post about TV and talked about this show.  I watched the first episode (season 1 is on Netflix) and the whole family was hooked!  In fact, weekly, I ask the hubs if we can move to Bluebell, Alabama.  It's just an endearing show and I truly have fallen in love with all of the characters.  I can't wait for it's return next week!
4.  Revenge — There's a pattern in that we almost never watch a show from inception.  I didn't know about Revenge until the end of the first season and caught up on Hulu.  Now, we're hooked.  The older things, hubs and I look forward to Sunday nights and this is the only TV show that's on my calendar.  (Most all other shows I don't care if I see the night they air or not… not the case with Revenge!)  I don't know who to love and who to hate and it changes with each episode.  But my favorite part?  The waves in the opening credits/logo.  It's just so cool!!
5.  Law & Order: SVU — HUGE Law & Order fan and I would've told you that I had seen them all… but… when we first got Netflix… the big snow of 2009 because we had no cable and if I had to be snowed in one more weekend with those kids I might have screamed….the hubs and I started with Law & Order: SVU Season 1.  We were amazed at how many episodes we never remembered seeing.  It took us over two years to watch all and get caught up with the current season and while I don't like it as much without Stabler, I still love the concept of the show and stay as current as I can.
Shows I Watch When I Have Time or On Netflix only
6.  Emily Owens, MD – This is such an endearing show that I hate that they are canceling it.  I found it by accident and I must admit that I don't watch as enthusiastically now that I know it's going away.  Why get attached, ya know?
7.  Hot In Cleveland — Ok, so if you've never seen this show, it's a HOOT.  I had never heard of it until I listened to Betty White's "If You Ask Me" on audio while I was knitting one week… (What?  Sometimes I can't decide if I want to read or knit, so I do both!)  Anywho, she talked about her show "Hot in Cleveland" which was on TV Land and that working with these three women were just like working with the gals from the Golden Girls.  Well, I found it on Netflix and was hooked!  It is the Golden Girls all over… but not really.  I laugh, literally, out loud.  Betty White is amazing.
8.  Everybody Loves Raymond — Here's a show I never watched when it was in Primetime.  Ever.  It's one of the shows that I watch as I'm going to bed typically or if I can't sleep.  (Oh how I love ear pods and Netflix on my phone so as to not wake the hubs!)  But I just LOVE this show.  It makes me laugh, too.  And because it's not a story line type of show, I can fall asleep in the middle and not care.
Shows that I Wish Were on Netflix But they Aren't
9.  Golden Girls — Goes without saying!  My favorite show.  Ever.  I've been asking for the complete series on DVD but I haven't gotten it yet.  My friend, Erin let me borrow it.  It's probably the number one reason I would want to have cable… Golden Girls re-runs….  I love them all.
10.  Becker — I did watch this show when it was on and loved it.  I loved Becker's scrooge-like personality.  I laughed all the time!  The entire cast made it the show that it was.
Shows that I Wish they Never Cancelled
11.  Brothers and Sisters – I will admit… I've not seen the very last episode.  It's there in my queue but… in my mind it's not over.  I started watching it after it started and it was long gone by the time I got to the last episode.  But I loved it.
12.  Ugly Betty — BEST SHOW and I miss it.  I do go back and watch it from time to time.  I think it was a great message and on the whole, a wholesome show.  I'm surprised it lasted as long as it did!
13.  Jane By Design — It's not a surprise to love this show if I loved Ugly Betty.  The premise is similar and when I found it on Netflix it had not yet been cancelled.  I was pretty bummed when it got the axe.  Things were left in the air.  I need closure.
So there you have it…
How about you?  What is/are your favorite TV shows?
Until next time…