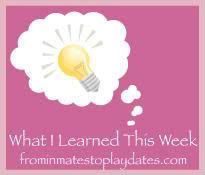 I learned, as I do every week, more than I ever thought I would need to know.
Like how an iPhone, even when purchased with their own money, will curb bad behavior and attitudes faster than anything else on this earth.
I also learned that leaving your children with your husband for 3 days while attending a "retreat" is not a retreat.  I found myself calling to check in or to remind him of things I might have forgotten.  Mind you, it wasn't because I didn't think he could handle it.  That's not it at all.. he WAS a single dad when I met him.  But because I know things and children tend to attempt to get away with things when the "regular" parent is gone…. (Like graded work comes home on Tuesday and they will NEVER volunteer the folder… you have to ask.)
I learned that 16 year old boys can hang out in a church fellowship hall and have a GREAT time playing Rock Band, Pictionary and Apples to Apples…
But the biggest thing I learned (and probably the most life changing, really… if we're honest….)
OMG.
Seriously.
OMG.
Let that sink in for just one minute.
…
…
…
You know I've seen them before, right?
I saw them July 2011… but before that, the BFF and I went to DC to see them.
(We're so going to meet up in DC this year, too!)
If you're really in the mood to laugh, you can check out that trip here and here.
And then, of course, the hubs came along and right before we got married, I had to break up with Donnie.
But just because we broke up doesn't mean that I can't check in on him to make sure that he's doing okay…
In a perfect world, I'd hit DC on Friday and then drive up to Philly on Saturday and home on Sunday, but I don't know that I can make that happen.
We'll just see where the chips fall.  🙂
I am one happy camper!
What did you learn this week?  Link up at From Inmates to Playdates.
Until next time…