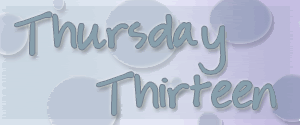 I'm excited about this year… about two-thousand THIRTEEN… (and I don't say twenty thirteen.  I think that sounds silly.  But that's just me.  I'm weird like that.)
So beings that it's 2013 (you said two-thousand thirteen, didn't you?  Thank you.), what better than telling you thirteen things that I am REALLY looking forward to this year!
1.  Our cruise.  We went last year on the Love Like You Mean It Cruise.  And we're going again this year.  Key West.  Cozumel.  No kids.  Yes!  I'm excited.  Its just a little over two weeks away!!!!
2.  Spring Retreat in March!  Do you know what I love to see?  Kids worshiping!  And having a good time!  So at Spring Retreat, I get to take a bunch of kids to worship.  I can't wait?  In the area?  Have teens?  Call me!  I'd love to take your kid, too!
3.  Field trip with Thing 3 to the Ashboro Zoo (March).  The BEST part about having kids?  Going on field trips with them!  This will be the first one that I get to go on with Thing 3.  Unfortunately, parents have to follow in their cars and can't ride the bus, but I'm still stoked about going.  (I've been with Things 1 and 2 on various trips and I really can't wait to share the field trip love with Thing 3.)
4.  Bible quiz to Cherryville, PA with a possible stop in Hershey on the way.  (April) After the last Bible quiz trip I went on with Thing 1, I'm hooked.  I can't wait to take another road trip with them.  The possibility of Hershey AND knowing I can stop at the Butcher Shoppe in Chambersburg on the way just makes it all the better!
5.  Dollywood field trip with Thing 1.  (May)  We did this last year and my mom came over and met us and then we got to go home with her… The hubs brought the kids down the next day and we had the BEST time visiting.  I'm hoping we'll be able to do that again this year.  Regardless, I love the kids in his photography class and the teacher and can't wait to go again.  I might have mentioned before how I love field trips!
6.  Beautiful Life Conference with Angela Thomas (June) I LOVE Angela Thomas.  (I had the blessing of being her host when she was here for eWomen.) A group of us went down last year and had a BLAST!  So, I'm already planning on going again this year.  Want to go?  Please?  We'll have a blast!
7.  The End of the School Year.  By the time this rolls around every year, I'm excited that I don't have to get up at o'dark thirty… even in the summer.  🙂  I love summer.  I am NOT looking forward to 5th and 8th grade graduations.  I just can't believe it.  So I'm pretending they aren't happening until I absolutely HAVE to face it.
8.  NKOTB in DC.  (June).  I have my ticket.  I'm ready to go.  TODAY.
9.  Bible Quiz Nationals (July) — Woot!  They came in 3rd place last year and I'm anticipating even better this year!  This trip won't be too far, as we're just going to Southern Wesleyan University…. but I'm excited nevertheless.
10.  BlogHer in Chicago (July)… I love that I get to go with fellow bloggers… but most importantly?  I love that I get to see Jenn!!  I've not seen her since we met (for the first time IRL in DC over 2 years ago!)
11.  New iPhone.  (release date sometime after July… or so it's rumored.) Yes.  I'm looking forward to it.  While I wanted an iPhone 5 for Christmas after the hubs got one, I changed my mind.  I still have my 4S and I'm okay with it.  But when it's time for an upgrade in June, I'm going to be ready for the release of a new one.
12.  The start of school.  Yes.  I know that I said I was looking forward to it ending.  But then I listed all the things we're doing and by the time we get around to mid-August (and band and cheer practices are taking place every stinkin' day) that I'm going to be ready for school, and the schedule, to kick back in.
13.  eWomen.  (October) — because I love it.  🙂  I think I mentioned how much I love to worship.  🙂
So there you have it…. my Thursday Thirteen… link up here!
What are you looking forward to in 2013?
Until next time…