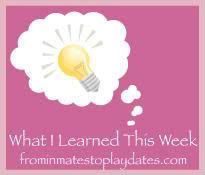 So yesterday's post was a little on the dark side.. not the norm that you expect from me but I was struggling.  And I had to get it out.  So I did.
Then I decided to participate in a facebook linky likey party (you should come play too!) and then I'm all like…. "great!  they're going to think I'm some emo depressed all gloom and doom kinda person."
And on the whole, I'm not.
And then I realized that I shouldn't care what other people thing and pull out my standard, "It's none of my business what other people think about me stance."  Which is great in theory.  But hard to live out.
So, back to some fun… What I learned this week.
Google reader is going bye – bye.  This makes me sad.  I LOVE Google Reader.

Feedly is a great alternative.
Bloglovin is another alternative, but I'm not sure I like it as much as feedly.  (Because I don't want just a snippet of your blog post… I want the whole shebang!  I don't have time to be clicking all over the place.)
To claim my blog on Bloglovin, I have to paste this into a blog post. Follow my blog with Bloglovin
Since I was over here to post that, I figured I might as well just do my blog post now.
You can learn alot about trials and adversities from your thirteen year old.
Class rings are expensive.
Purchasing a class ring for your eldest will make you feel old.
But not as old as when he gets his student ID from the local community college.
5th grade math might be the death of me.
When you work in ministry, the month that Jesus dies and rises again is just as busy as the month in which He was born.
What did you learn this week?  Link up at From Inmates to Playdates.
Until next time…