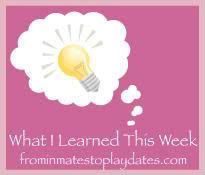 I love this Bloggy Carnival.  No, really.  It truly is my favorite because you learn alot.  My problem is, I don't stop to write down what I learn throughout the week, so it makes writing a bit difficult at times, but I digress…
So, in no particular order, here are a few things I learned this week….
When chickens pluck their feathers out, all you see is meat.  As in, this looks like is just came from the store and is wrapped in cellophane meat.  I'm not sure what I thought it would look like under the feathers, but it does, in fact, look like what I buy at the store.
It is possible to make a breakfast casserole that your dog won't eat.
Once you make said casserole, then you're upset that you wasted all those fresh eggs that people are willing to pay money for.
People are willing to pay money for the eggs that we have laying around.  (But I don't charge.  I give them as gifts…for now.)
If you pick up a hen who is in the process of laying an egg (why would you do this????) and the egg breaks as it's coming down the chute (I know there's a term, it escapes me at the moment) it could kill her.
It doesn't matter how many nesting boxes you have, they will all use the same one.  (We have six chickens and there are always 5 eggs on the right and one egg on the left.)
It's hard to crack beautiful eggs.
If you don't wash the eggs you don't have to refrigerate them.  They have what's called a bloom on them.  I know.  It's hard to get used to.  But one of my most favoritest decorations in my house is the basket of eggs on the island.  I never let it get empty.
The above picture is about one of twenty that I have in my photos.  I like to take pictures of the eggs.  This particular picture was an attempt to illustrate how big that egg was.  It was a double yolk. I know that one hurt.
When chickens lay an egg, they sing a song.  Those are the moments I'm most glad we don't have close neighbors.
It ranks just above when it's time to clean the coop.
There are ways that you can care for chickens so they don't smell bad and it doesn't take a lot of work.  Leave it to me to figure this out.
It doesn't matter how long you have chickens, going down to the coop and peeking in the box to see how many eggs are in the nest NEVER gets old.  It's like Christmas every single day and we fight over who gets to do it.
Of course, I didn't learn all of this in one week.  I was really just trying to come up with a post.
Because there's a post I need to write and I don't want to write.  So this would be procrastination.
And I've not talked about my chickens much.  I should talk about them more.  We love our gals.
But there you have it… the chicken edition.
Questions?
What did you learn this week?  Link up at From Inmates to Playdates.
Until next time…